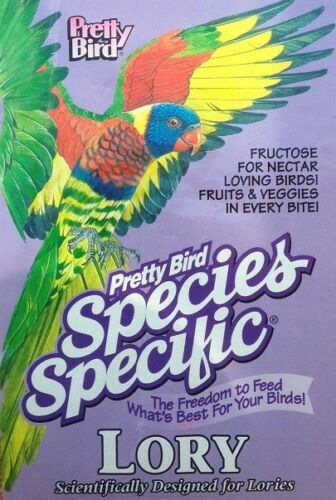 Pretty bird lory lorikeet
Regular price $27.99 Sale
Pretty Bird Lory Pellets  - 20lb UPC 716432793150, 3lb UPC 716432733156
*          An easy-to-use alternative to messy nectar diets
•          An easy-to-use alternative to messy nectar diets
•          Includes fructose, a naturally occurring essential nutrient
•          Fruit-flavored mini-morsels simplify and enhance feeding 
 Because we know feeding lories can be a challenge, we recommend Lory Special, a dry, extruded diet that simplifies feeding. Mini-sized morsels with added fructose, an essential nutrient that occurs naturally in the diets of this breed in the wild.
Feeding Instructions:
Pretty Bird Lory Special should be available at all times. When feeding Pretty Bird Lory Special for the first time, mix with your bird's existing food and gradually increase the amount of Pretty Bird Lory Special until existing food is no longer in the mix. Food moistened with fruit juice may help with the conversion. Observe your bird carefully to ensure he is eating enough. Store in a cool, dry place.